1
« on: November 19, 2019, 03:26:08 AM »
This sunday I was bored so I made a fuzz.
I was curious about the GI Fuzz, so I made the pyledriver, but changing the name. I think that mine fits better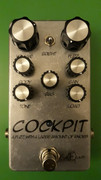 The build itself is simple, few components, pc mount pots, the graphic is minimal.
I don't like the 125b because it's too thick, so I reduced the thickness by cutting away 8mm from the bottom, so I don't have to lift my foot very much

The sound is very... as you want, there are many controls, many sounds. It is still a fuzz, but very versatile.